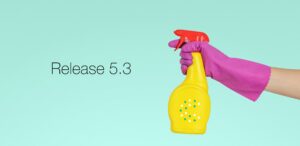 We just released Version 5.3 with new features, improvements, and bug fixes to enhance user experience and streamline clinic operations. Here are some of the highlights of the recent updates.
Clinicminds QMS
The QMS now supports colored labels, which can be used to mark folders and documents that belong together and find them easily. When moving a folder or document in the QMS, the system displays a warning when people will lose access, which can happen when dragging a folder or document into a folder with access restrictions.
Zapier
Zapier, an automation tool that connects thousands of different apps, now has a new trigger that fires when a payment is registered in Clinicminds. This can be helpful for syncing payments to your bookkeeping or tax system. There's also a new trigger for deleted payments, allowing you to track any corrections made. In addition, the appointment duration and booking date have been added to existing Zapier appointment triggers, which can be helpful in custom communication to patients, marketing, and analytics purposes.
Enhancements, improvements, and bug fixes
The recent updates will significantly improve the user experience and overall functionality of Clinicminds. Users can find more information in our help center.
Want to learn more about Clinicminds?Chat with us!