Recently we launched our second release of our online booking widget. When we started to make our plans to enable an online calendar within Clinicminds, we obviously looked at existing online scheduling systems as there are many different systems available online. Personally, I was convinced that we could find one that would fit perfectly and would be simple to integrate.
Search and criteria
We had many criteria, but to mention some we wanted a system that would have a simple booking process without the hassle of logins for customers. It needed to have an open API to communicate with our database which keeps all the information in one interface and of course an affordable system as clinics would need to acquire another SAAS solution to run their clinic.
Conclusion: I was wrong! We needed to build our own and offer it as an end-to-end solution with NO additional costs for our clients.
Why should you offer online booking
In my opinion, there are three important reasons to implement and start using our online calendar.
First and foremost your customer experience. You want to make the entrance to your clinic as smooth and effortless as possible.This means you want your clients to book their appointment 24/7 where ever they want without the need to fill in lengthy forms. Also consider situations where customers might feel uncomfortable to call an aesthetic clinic. Not to mention generation x that prefers to schedule their appointments online altogether.
From a business point of view, you are always looking for ways to increase your conversion (booking) rate. Having a 24/7 outlet where your customers can interact and have an immediate response is a huge benefit. It's the ultimate click-to-book experience which is extremely important to increase conversions.
Both large clinics They both have different needs. But both can benefit tremendously from online scheduling that fits those needs.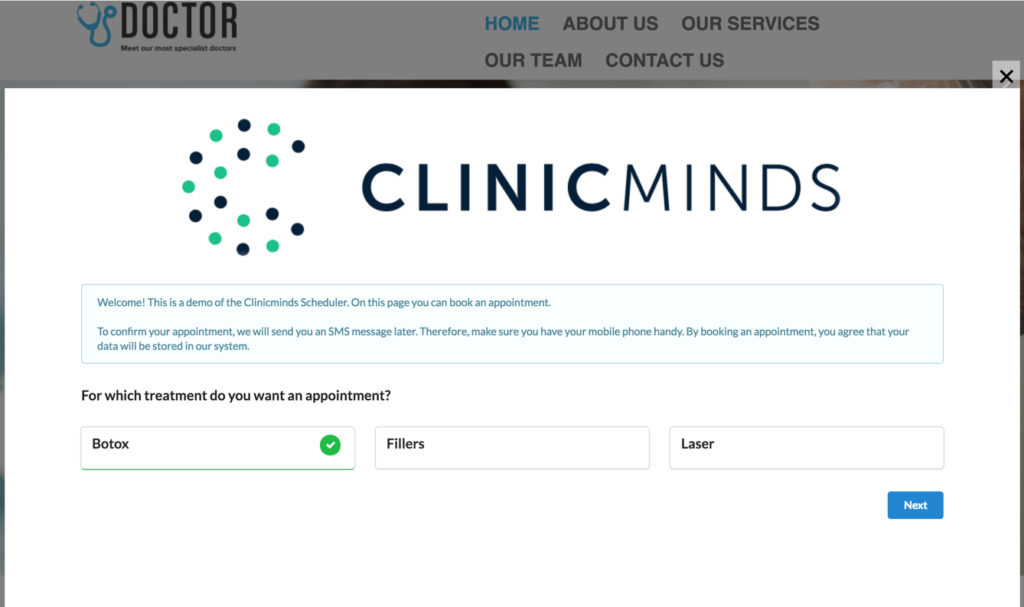 For all clinic sizes
When you start a clinic, you don't want to have too much overhead which means that you either pick up the emails or phone calls your self or outsource it to a call handling service. Both scenarios cost time and money. Not to mention that when you are busy, you can not pick up the emails and phone calls.
When you are a mid-sized to a large clinic, you want your back-office to be as efficient as possible and to pick up those calls that need attention and are usually more complicated.
Last but not least you don't want to manage two different systems and have two separate databases with inconsistent client data. It's too error sensitive, creates more work and thus isn't efficient. That's why we chose for an integrated online booking widget (the so-called end-to-end solution).
Oh yes and did I mention that you are also saving money? We consider online scheduling to be a core feature of our service, so it's included free of charge for all subscriptions.
Guy, co-founder