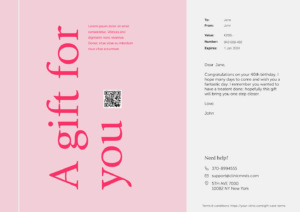 Shopping online just got easier with our beautiful new gift card feature. Now you can sell Clinic gift cards online, directly from your website or social media channels. With this new feature, Clinicminds now supports in-store (clinic) and online sales of Gift Cards, both seamlessly integrated into your clinic and clinic management system.
Your customers will love the ease of ordering gift cards for their friends and loved ones. It's not only an excellent service for your existing customers. Gift Cards are also a great marketing tool to capture new customers in a positive way.
One of the often-heard arguments for not using Gift Cards in clinics is the amount of extra administrative work and the fact that it can be error sensitive in practice.
But don't worry; to ensure this will not lead to more administrative work, Clinicminds will automatically register purchased gift cards. It will also keep track of redeemed gift cards and make sure your bookkeeping is up to date! In addition, you can customize your Gift Card with your own design and corporate identity.
To learn more about Clinicminds and the marketing features we offer, don't hesitate to contact us.