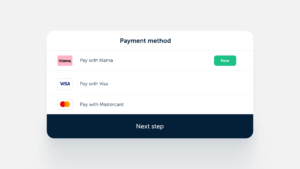 We are happy to inform you that we included Klarna as a payment option in Clinicminds.
Klarna is a company that offers financial services, including payment solutions for online stores. Klarna provides several ways to pay for online purchases, such as paying in installments or deferring payment. Klarna can also be used to make online purchases using a virtual credit card.
You can use Klarna in your clinic to offer your patients the option to pay for their treatments in installments. This can help your patients pay for their treatments without having to pay a large sum of money upfront. Klarna can also be a good option for patients who do not have a credit card or prefer not to use their credit card to pay for their treatments.
You can enable Klarna through Stripe. You do not need to separately register with Klarna as a clinic. Payment options (immediate / later / installments) vary by country. Click here to see the options:
Your patients can then choose the option to pay with Klarna when they book or pay for their treatments. It is advisable to inform your patients of the terms and costs associated with using Klarna, so that they can make informed decisions about how they want to pay for their treatments.
Klarna can be used in Clinicminds for the following payments:
In the online booking widget on the clinic website. For prepayments, no-show fees or full treatment payments.
Treatments that are handled and booked via the clinic call center or front desk. This can be a full treatment payment or a prepayment.
Selling gift cards online.

To learn more about our payment's options contact us.