Introducing Quality Management System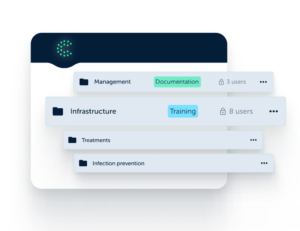 we are thrilled to announce the launch of several new features and enhancements for Clinicminds. Our new quality management system makes it easier than ever to manage your clinic's protocols and documents.
With drag-and-drop uploading, periodic revision reminders, and user access restrictions, you can ensure compliance and improve communication with your staff. Plus, with Clinicminds QMS, there's no need to use external applications anymore.
Just activate your QMS subscription, start uploading your documents, and streamline your clinic's operations!
Power feature – Copy button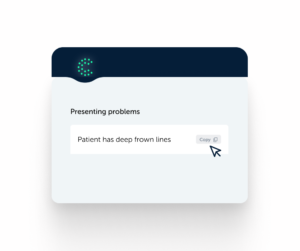 For those times when you need to copy text from an old record, like a previous treatment report, we've added buttons for that to all large text fields in closed records. Together with our previously introduced power feature, the record switcher, this new copy button will make your life easier and help you finalize records even faster.
The record switcher allows you to quickly switch between patient records, no matter where you are in a treatment record. So now, you can easily copy text from an old record, switch to the current record, and paste the text, all in a matter of seconds!
Promote your video's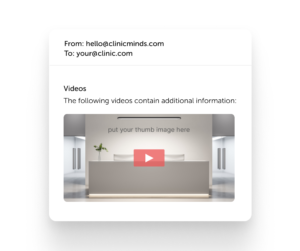 Next, we have added the ability to send custom video brochures to your patients. This feature allows you to send videos in addition to PDF brochures, making it easy to share information with your patients before or after their appointment.
You can upload your own thumbnail image, which will be clickable in the emails to patients, and you can host the video in a place of your choice, such as on your website or a video platform like YouTube or Vimeo.
Other enhancements
Export working times
We've also made it easier for you to export working times and blocks from the staff planner. This feature is useful if you need to have data about your practitioners' working hours for analytics or HR/financial purposes.
Logo at payment screen
It's important for your patients to feel safe and familiar with your clinic, which is why we've added the clinic logo to the prepayment screen.
Notification gift card sale
We've also added a new email notification when a gift card is sold online. Last year, we fully redesigned the application and calendar.
Weeknumbers
Based on your feedback, we added back the week numbers to the calendar. Finally, we added back the option to schedule overlapping, non-repeating working times.

We hope that you'll find these new features helpful in managing your clinic more effectively. If you have any feedback or suggestions, please don't hesitate to reach out to us. Thanks for using Clinicminds!