The summer has just begun and our first product update is already here! In this update, we are introducing a very clever feature to send patients a request to fill in their missing medical history and address information during their visit. Now there's no need to provide your patient with an iPad to fill in their data. Just let them use their own smartphone!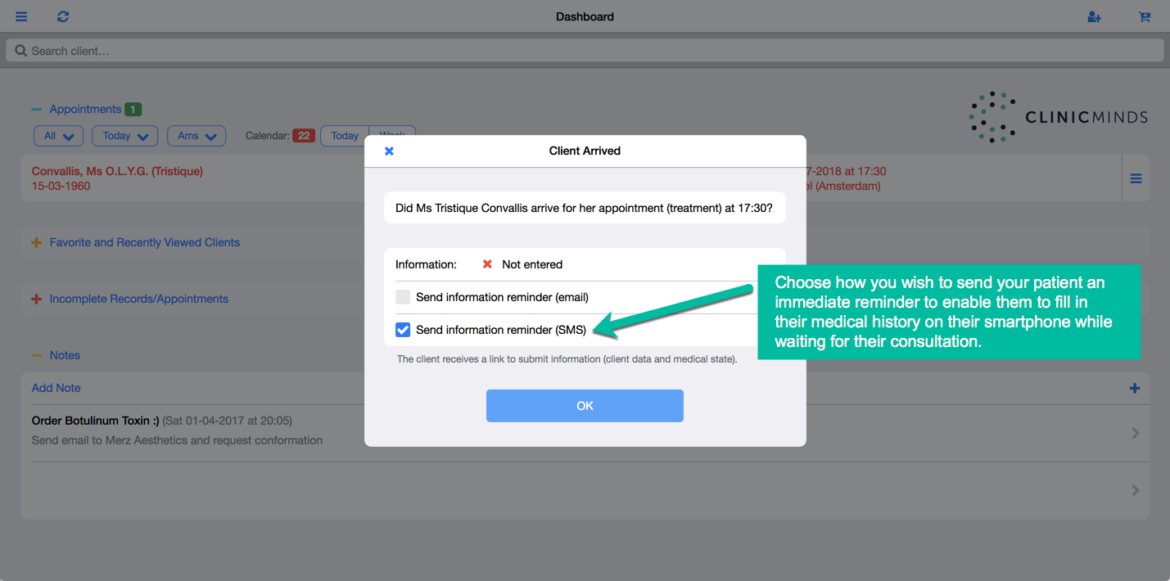 Other new features
New E-mail / SMS reminder information link
Even though the Clinicminds app already sends out an information request to new patients, there are always patients that forget to fill in their information by using the provided secured link. Therefore we've created the option to set up a reminder for clients to respond to this information link. This will increase the chance that patients will fill in their personal and medical information prior to their visit. When they do, this will save you time during the consultations.
Enabling or disabling information link
New settings to globally enable or disable sending the information link to clients (asking for client details and medical questions).
Expired medical history
As patients visit your clinic periodically their medical situation can change over time. Obtaining the latest information about their health situation is crucial for practitioners. Therefore we created a setting to automatically send the link again if the client hasn't visited for a number of days.
Bookkeeping
Treating your patients is your main concern but of course, keeping track of your sales numbers and bookkeeping is necessary as well. Therefore we added two new reports for import into bookkeeping systems (sales journal entries and payment journal entries). These include general ledger account numbers, which can be set up for each treatment (package), product, and payment method.
Date of birth and reports
In some cases, it's very convenient to be able to filter on the date of birth while exploring reports. Therefore we added the client's date of birth to some more reports where it was missing.
MailChimp sync enhancements
To further improve filtering within MailChimp we added 'Appointments' and 'Visits' fields to MailChimp sync.
Bug fixes and enhancements
While developing the above features and new upcoming features, we also crushed some minor bugs and enhanced some other features as well.
Have a great summer everyone!