An integrated waiting list is a major step towards a fully streamlined and automated clinic. Successfully implementing an integrated waiting list improves your clinic as a whole without having any potential drawbacks.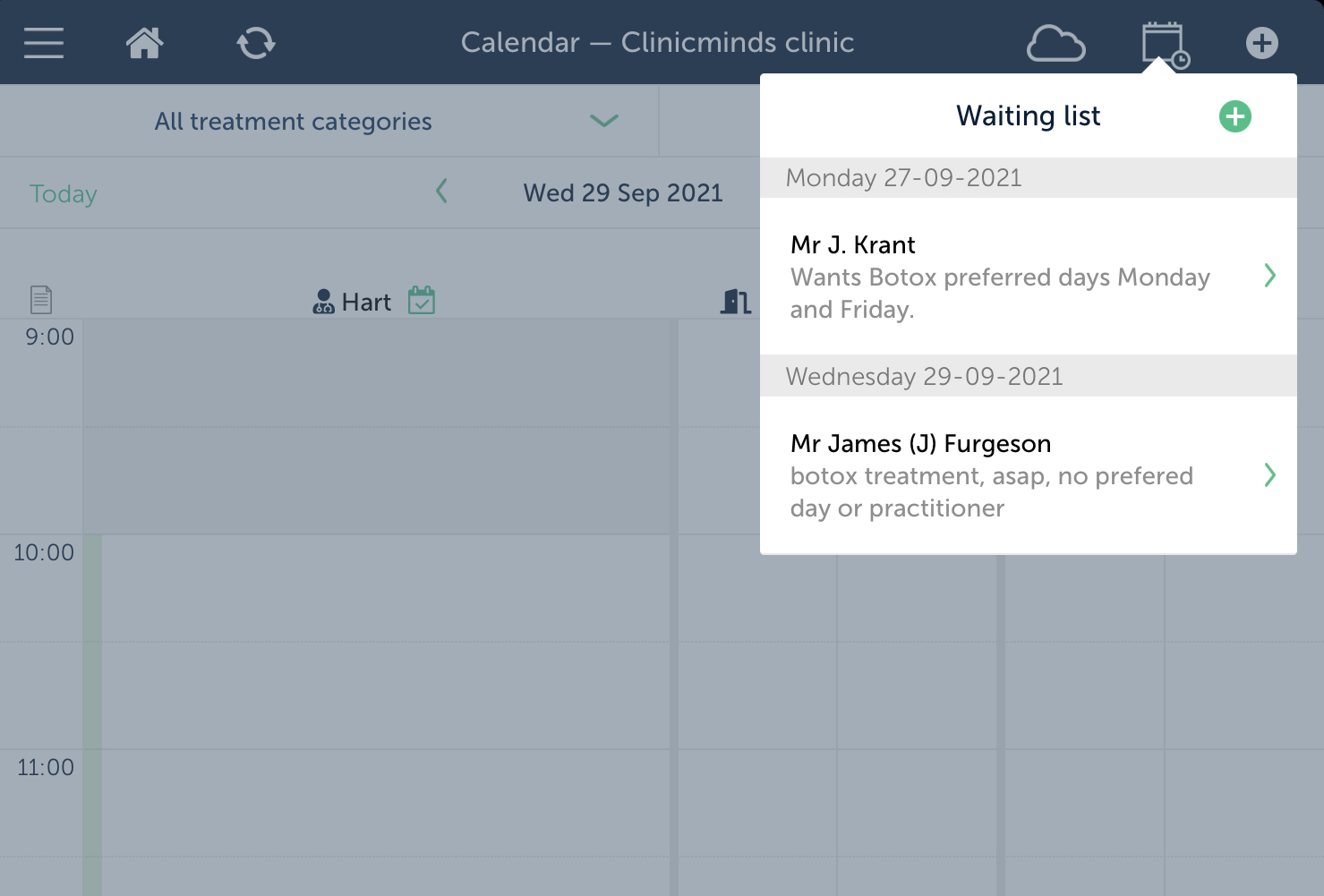 A Centralized List
The most obvious benefit of an integrated waiting list is the fact that the relevant information is readily available within a single location. This means that whoever accesses the document has the same list that gets updated in real-time from different points and departments. Additionally, the list does not require additional software like e.g. Excel as it can be accessed from any device that supports Clinicminds.
In other words, all clinic staff uses the same list that is always up to date. New entries and potential changes get synchronized across departments more easily, which is especially efficient when calls get handled outside of the clinic. However, even in the regular cases the delays in communication get drastically cut and the potential of making a double-entry or other mistakes that occurs when several different lists get involved is virtually eliminated.
As a result, an integrated waiting list is error-free and boosts the overall efficiency of the clinic
Patient Experience
Enhancing patient experience is the ultimate goal of clinic management software and having a waiting list serves the same purpose. Relying upon a unified, regularly updated, and reliable waiting list tends to reflect clinic transparency and to provide patients with the feeling of being important. This further reduces the chance of patients shopping around at other clinics looking for spots with earlier appointments, as with an integrated waiting list everybody with access can single out such slots immediately.
Clients always value the extra steps that an institution or a business takes, and a clinic with an integrated waiting list inspires that much more the feeling of reliability and assurance in all who use its services.
Schedule & Time Efficiency
Integrated waiting lists tie in well with streamlined calendars and in general close many potential time gaps in every clinics' timetable. With the option to synchronize and automate the calendar and scheduling, sudden cancellations can be instantaneously bridged, saving time for both patients and medical experts. An empty time slot harms the clinic's productivity and reduces both efficiency of the workplace and the total output and revenue of the clinic, and clinic management software should prevent these cases from happening whenever possible.
Of course, these types of calendar changes can also come in the form of recommendations that first have to be approved by an administrator, but even like this, the gains in efficiency remain beyond comparison with non-integrated waiting lists.
Easy Planning
Finally, an integrated waiting list does not only benefit the patients but your clinic as a workspace as well. With a simple, intuitive, reliable, and automated waiting list, you can plan ahead and eventually modify previous plans without having to worry whether a change in the list has occurred but gone undocumented.
You can think out long-term agendas, distribute resources for more intensive procedures with much less risk of no-shows, and in general have less trouble carving out the path to the future for your clinic. Every administrator knows that having a good plan and sticking to the set course gets a clinic further than sailing across rough and unsteady seas.
We're Implementing Integrated Waiting Lists!
In a few weeks, we're launching the waiting list feature. We would love to receive your feedback and any potential ideas that you get once you have experienced the feature in your clinic!
To learn more about this update and features, chat with us!